GREAT BRAND STRATEGY IS A BASIC BUILDING BLOCK OF GOOD BUSINESS STRATEGY.
Your brand needs a strategy to support it,
the same way building needs a solid foundation.
THE TIPPING POINT
With 25+ years of building Ireland's finest brands, we're pretty sure we have a good grasp of what works well.
A brand strategy is a long-term game plan that you need to nurture every day. So we've designed this guide to help get you started thinking about your brand and developing a strategy that will work for your business goals.
Our tips are short and savoury, so you can get stuck in straight away!
1. SEGMENT YOUR AUDIENCE
[PICK A SLICE]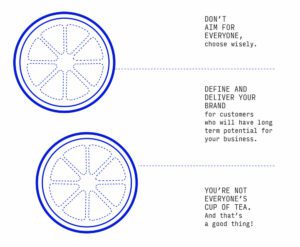 2.DEFINE WHAT YOUR BRAND STANDS FOR
[GET IT TOGETHER!]
Do you know what your brand stands for? Do colleagues? Do customers?
You might be surprised how different everyone's views are.
Your brand should be consistent. First, start internally to agree with what your brand should stand for.
Then see if customers agree, ask them; test your manifesto.
They will form an opinion if you don't.
3. THINK DIFFERENTLY
[DON'T CREATE A BRAND]
Do small (and big) things differently. Simple changes in your approach can create happy surprises and memorable experiences.
Who would have thought a crisp company would run a theme park or a chocolate company would give away free chocolates every single day, yet that's exactly what Tayto Park and Butlers Chocolate Café do. Small things can include thank you emails or clever packaging.
Branding shows confidence and helps customers understand why your product or service is better than the competition.
4. BE VISUAL
[SHOW WHAT YOU MEAN]
A little imagery goes a long way. Our attention spans are shorter now thanks to smartphones. People process images faster than text, so always strive to be as creative and visual as your budget allows. In a competitive market where quality, innovation and service are standard, design can often be your point of difference.
Clever ideas, good quality visuals, videos and fonts can bring you a long way, even on a small budget.
5. OFFER GREATER VALUE
[BE STAR QUALITY]
Giving great value doesn't always equate to money. Your brand can offer value above and beyond its price by giving your customer the satisfaction of owning a leading/niche brand or the security of knowing they can rely on your product or service.
Your business can differentiate by focusing on improving the quality of its offering to a higher level of care and a greater customer experience.
Remember, happy customers, tell their friends.
6. STAY FUTURE FOCUSED
[HAVE VISION]
Every business must innovate to survive. Don't expect your customers to keep buying your offering. Challenge your assumptions and mindset. Ensure your team reflects the diversity of ideas, insights and opinions so collectively you can forecast. Continually develop plans in order to stay relevant. Know where your business is going; keep up to date with changes, consumer behaviours and technologies.
7. BE TRUE TO YOUR WORD
[INTEGRITY MATTERS]
Be honest. Prove your brand delivers what it promises. If it's not up to scratch – change it. Every customer contact is a brand experience. Each member of staff who talks to customers is a brand ambassador, ensure they understand the important part they play in building brand success.
Customers won't tolerate contrived brands and will quickly amplify their discontent on social media and elsewhere.
8.BE PRESENT
[LET'S GET DIGITAL]
Don't forget to meet your customer in their digital space. There is no longer a digital divide when it comes to where your brand should be, so go where your customers are. You will need to determine how to be relevant in these spaces while still keeping your brand true to its values.
9. BE CONSISTENT STAY RELEVANT
[RIGHT HERE, RIGHT NOW]
Always strive for consistency in image and reputation when managing your brand. It will save you money and eliminate any confusion about what your brand stands for in the marketplace. Make it easy for everyone in your company to understand the brand's tone of voice, brand values and positioning and to follow this internally and externally.
Finding a way for your brand to be relevant and connect with your customers is a mix of being innovative, accessible, inspiring and insightful.
10. HAVE A BACKBONE
[RIGHT HERE, RIGHT NOW]
A well-designed logo will only take you so far.
If you don't have a brand strategy to support your brand it will fall short of the mark sooner or later. You need a solid foundation to build, develop and adapt your brand as needed and to communicate its worth to employees and customers.
A good brand strategy takes in to account customer and competitor research, insights, design and communications. Having this in place means a deeper understanding of your brand and ultimately results in better margins.
WHY BRAND?
A sustained and strategic investment in your brand will deliver results.
A brand gives consumers a rationale to purchase, creates interest, drives sales and referrals.
Strong brands have strong margins and this leads to strong shareholder value.
If you can't define your brand then neither can your customers.
THE FULL PACKAGE:
From brand strategy right through to identity design, we've been the secret sauce behind several of Ireland's top brands; developing their brand to elevate their business.
We're also happy on the shelf! With our experience in packaging and retail store design, we help bring brands alive online, offline, on shelf and in-store, driving sales and developing brand affinity.