At Bradley, we are delighted to announce our first formal charity partnership.
We have begun a three-year partnership with Social Entrepreneurs Ireland (SEI), a not-for-profit organisation dedicated to supporting social entrepreneurs in Ireland. We will be providing Social Entrepreneurs Ireland with brand strategy, marketing content and design services on a mostly pro bono basis.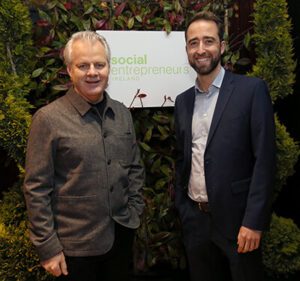 Andrew Bradley, MD, Bradley with Darren Ryan, CEO, Social Entrepreneurs Ireland
LOVE YOUR WORK:
We have long admired Social Entrepreneurs Ireland and the work they do in providing the support and direction needed at every stage, to tackle social and environmental issues within our communities. With the social, environmental, and economic challenges brought on by the COVID-19 pandemic, social entrepreneurship needs to be supported now more than ever, to help build a better society. Our team are delighted to be able to support SEI through our new partnership, and by bringing world-class design to a not-for-profit organisation, they can continue to set the standards in being effective with a strong brand.
FORWARD FOCUS:
Social Entrepreneurs Ireland's mission is to find people with solutions to social problems and support them on every step of their journey. Since its foundation in 2004, SEI has supported more than 300 social entrepreneurs, whose projects have directly impacted over 1.8 million people across Ireland. These include well-known initiatives such as FoodCloud, Irish Men's Sheds Association, and Ireland's national Autism charity AsIAm.
Social Entrepreneurs Ireland are leading the way for social entrepreneurs and also for other organisations by recognising the importance of brand and design in helping them to reach people and achieve ambitious goals for the organisation.
They will use this partnership to raise the understanding of what social entrepreneurs do in Ireland and help them to identify and promote themselves as social entrepreneurs. As they are an independently funded charity, the three-year partnership commitment from us means they can continue to do the work they do and now also be supported with our strong strategic brand planning and design services.
2020:
We have been working with Social Entrepreneurs Ireland in 2020 with brand and design collateral to support their national campaign for their 2020 Ideas Academy programme. Paula and Andrew from our team are also helping Social Entrepreneurs Ireland to judge these applications to their programme.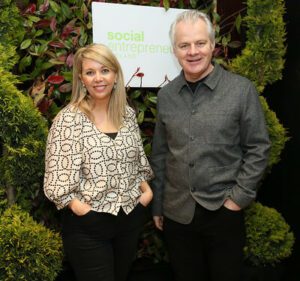 Paula McKenna, Design Director, Bradley & Andrew Bradley, MD, Bradley
OUR INSIGHTS:
We encourage all businesses whatever sector they are in, to find and support an organisation that can benefit from their unique skillset in order to boost those helping to make positive changes in Ireland and in turn enhance their own business' dynamics. It's possible that now as businesses have more time to reflect during and post COVID-19 that there may be an opportunity for SMEs to partner up with charities or not-for-profit organisations whose work they value to show solidarity and support, to create a mutually beneficial relationship.
We're happy to share our learnings with other SMEs.
Get in touch, send us an email.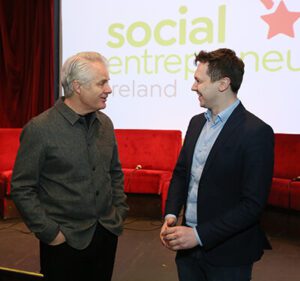 Andrew Bradley, MD, Bradley with Adam Harris, Founder, AsIAm
ABOUT SOCIAL ENTREPRENEURS IRELAND
Social Entrepreneurs Ireland (SEI) is a not-for-profit organisation (Charity Reg Number No: 20065379) that supports social entrepreneurs with innovative ideas to tackle Ireland's social problems. Its mission is to find people with solutions to social problems and support them on every step of their journey. Since its foundation in 2004, SEI has supported more than 300 social entrepreneurs. For more information www.socialentrepreneurs.ie